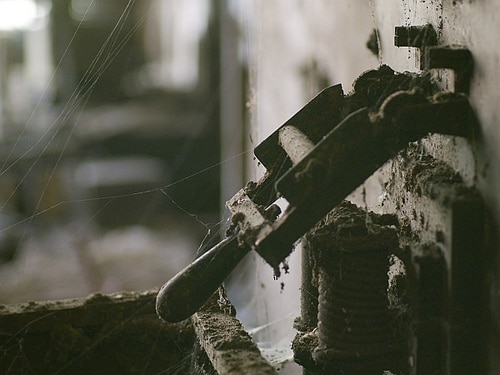 It's a droopy, dusty penis.
I have this website in my reader called
The Art of Manliness
. For the most part, it's the sort of misogyny that's hard to pin down, let alone write about. (You know, teaching men how to make fires with two sticks or fix a car, as if women couldn't use those skills.) This, however, is over the top, with a bonus round of evo-psych. Oh, yeah, I got me a fisking.
A few weeks ago, I caught the premiere of the Discovery's Channel's "Human Planet," a television show about the ways people have adapted to survive in Earth's most extreme environments. Perhaps a better name for the program would have been "Man Planet," as the show primarily chronicled the incredible feats of men around the world–men the tentacles of civilization have barely grazed.
Yes, because women say, giving birth, in those situations weren't engaging in "incredible feats". Man Planet, indeed. Without those women, it would be One Generation of Planet.
Anyway, this is followed by a fuckton of stats that show that women are more likely to be in college, get higher gpas, graduate and move on to advanced degrees. What is not mentioned is that women, despite all this, make 78 cents on the man's dollar. Never mentioned. Women have more college degrees, more advanced degrees and make 78% what men make. Now that's impressive. Poor, poor menz making 22% more than women. It must be tough.



Over tens of thousands of years, our manly ancestors evolved unique psychological traits that helped them survive and thrive in a dangerous, hardscrabble world. While we like to think that we're cultured and sophisticated and quite a distance beyond all that, all men still have these primitive psychological traits embedded deep inside them. As we can see from a show like "Human Planet," there are still men who live this way right now. The modern society we enjoy today represents a mere blink in the long history of humanity.

And so we have a mismatch, where for men in the developed world the inner elements of masculinity remain unchanged, while the outer landscape in which those elements exist has been dramatically altered.
Okay, I'd like to point something out here. Women were also living in that "dangerous, hardscrabble world". Women also should have "primitive psychological traits embedded deep inside them". So why are the menz adrift and lost and saddened beyond measure while women get advanced degrees for the sake of making only 78% what their sad, primitive male counterparts make? I dunno, evo-psych, it's for the menz! For explaining why menz are so sadness. Men built out culture, you know. It was all men, all the time. And now they are adrift in the hell of their own making.
C'mon now.
Two of the stats mentioned were that men lost 75% of the 8 million jobs lost during the recession and now there are more women in the workplace than men. To me, that's called being hoisted by your own petard. You ever heard of the "pink ghetto"? It's a term for the way women have been traditionally funneled into certain (low paying) careers to the point where those careers are feminine by very definition and men in them are regarded with suspicion and mockery. Nursing*, teaching, secretarial work, that sort of thing.
Meanwhile, men dominated in other, (much) higher paying careers: construction and manufacturing, to name a few. Now what imploded in 2008? Oh, that's right the housing market. No more construction. Manufacturing has been on its way out for a while, but the final blow was probably nobody having money to spend on manufactured items.
So, men reserved, with ruthless efficiency (ask any women who has tried to get into construction) their stranglehold on better paying jobs that don't require college degrees- and stayed there. Meanwhile, women eked out an existence in their pink ghetto- jobs that are, to a large degree- recession proof. People will always need medical care, children will always need to be educated and letters need to be typed.
So, really, I'd just like to say Ha! and HAHAHAHAHAHAHAHA and Shoulda listened to the feminists, buddy. Am I sympathetic to these jobless men living in a country and economy that doesn't have a place for their skills? Yes, I am. Do I think unemployment compensation should be extended past 99 weeks? Absolutely. Do I think this is an evo-psych issue? No. It's a patriarchy issue.
Just to be clear, I don't blame any particular man or group of men for this. In the main, men are pretty clueless about their privilege and how it affects them and women. They're not deliberately benefiting from or enforcing the patriarchy. Some men are, but most by far aren't even really aware of it. Still, it is the sort of karmic justice that make me think I should fear Shiva, because the Hindus** could be right.
There are many more pundits who like to describe the problem with men today than actually propose a solution. And when a solution is proffered, it typically takes the form of "Get over it men. Your sun has set. Move on. It's a woman's world now." And what this typically translates to is this: become more like women. Get in touch with your feelings, become more nurturing, and train to join the thriving, and traditionally female-dominated careers like nursing. The square peg is told to smooth off his sharp corners.
Oh, honey. That's just so sadness. Men and women are different and asking a man not to spit on the floor and follow it up by sodomizing a potted plant is asking too much! We are men! Manly men! In tights!
The other solution that some men take is to put themselves back in an environment similar to our caveman ancestors, so those unique male attributes are actually useful again. Men likeChris McCandless and Eustace Conway returned to the wild to live a more primitive lifestyle in order to reclaim their manliness and find themselves.
HAHAHAHAHAHAHAHA! Ooh, that's hilarious. Can you imagine the average American man tromping through the woods with nothing but a pocket knife and a pack of matches? Here's the thing: I don't know a single man who isn't relatively happy with the way things are in modern life. They like smart phones and video games and modern medicine and convenience food. Yeah sure, lots of things about modern life suck- for men and women- but the only thing the average American male would be finding in the wild is an ignominious- and likely quite amusing- death.
Men at their best will be needed in every time and in every place. Our unique attributes are no longer always called upon for hunting dinner and doing battle (although as the recent killing of Osama bin Laden testifies, we certainly still need men for that). But we still need men to become leaders of families, honorable statesmen, innovators and entrepreneurs, teachers and mentors, and worthy brothers, husbands, and citizens. Men at their best have something unique to offer the world no matter what the changing landscape. Men are absolutely vital to the continued health of society. To throw up our hands and say we're obsolete is beyond silly. We just need to learn to re-purpose our unique manly traits for our new environment.
Yes, because female Marines could not have shot an unarmed man in the face***. I could do that. (With surprising accuracy!) Although the rappelling down and running around in full gear? Not so much. Anyway, you know what? People at their best will be needed in every time and in every place. People. We need to stop dividing human beings into two distinct parts. Every person has something so unique the word itself must be italicized to offer the world. Nobody says men are obsolete, but this bullshit about how men and women are soverydifferent? Yeah, that's obsolete. That needs to go.
The solution for the modern male malaise lies at the heart of the idea behind the Art of Manliness itself: to move forward by looking back.
HAHAHAHAHAHAHAsnerf This whole thing is an ad for the website itself. That is amazing. I bow to you, sir. Clearly there is a reason I am languishing on blogspot while you are sponsored by Gillette. (Probably has something to do with my rampant use of the world vagina. Oh, and I bet the atheism thing doesn't help, either. And you're probably not writing a book in which God is the bad guy and the antichrist is a Lutheran minister.) Anyway, good one.
*Yes, there are more male nurses these days, but it's only like 8% of the nursing workforce, and I had to specify "male nurse"
**That is the Hindus, right?
***Frankly, I'm okay with Osama bin Laden being shot in the fact, I just don't see why a penis was necessary for that particular venture.